Who doesn't like coupons & deals? Whether you're a first time player or returning for the tenth time this week, we have a deal for you.
Dollar Off Per Player
2 for 1 Tuesdays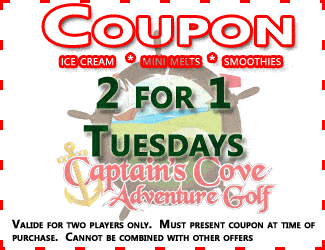 Pizza & Golf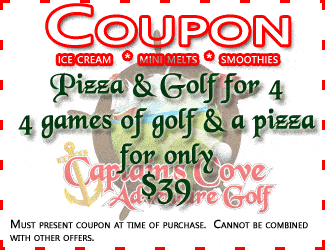 All coupons must be presented at the time of purchase and cannot be combined with other offers. You can show us the coupon on your phone but be aware that we are in a Verizon dead zone.
Frequent Player Discounts
Our frequent player program starts rewarding you on your second trip. Pay full price on your first visit, then get $2.00 off on your second visit. $3 off on your third... you get the idea.
Friends of the Captain
The Captain has a special deal for his corporate friends. Become a Friend of the Captain and receive deep discounts for your employees at no cost to you. Email captain@smallgolf to learn more.
Moms & Dads
Moms always play for free on Mother's Day and Dads always play for free on Father's Day